CINEMAexpo67 is an exploration of Expo 67's most ingenious screen experiments. We are a group of scholars, artists and filmmakers in conversation with filmmakers and archivists, creatively researching the cinemas of Expo 67. The Expo 67 films attracted worldwide attention and over 50 million visitors during its exhibition from April 22 to October 27 1967. Montreal's world exposition distinguished itself from previous world fairs with its spectacular displays of film and media transformed into urban and futuristic architectures. More displays of photographic, cinematic, and telematic technology were experienced at Expo 67 than at any previous world exposition. At the pinnacle of a new post-war global humanism in the 1960s, cinema was expanded beyond the frame into total environments, multi-screens, multi-image and 360-degree immersion – experiments often seen as a harbinger of a transnational digital age to come. Expo 67 'film-events' were creative experimentations that resonated with dynamic energies of the 1960's international arts and culture scenes. In its utopian aspirations, Expo 67 invited artists to transform perception and create the world anew.
Monika Kin Gagnon
Monika Kin Gagnon is professor of communication studies at Concordia University. She is the author of Other Conundrums: Race, Culture and Canadian Art (2000), and with Richard Fung and eleven media artists, 13 Conversations about Race and Cultural Race Politics (2002). She produced the DVD/film project Charles Gagnon: 4 Films (2009), and a related Korsakow film, Archiving R69 (2011). Her current research on the intermedia practice of Korean-American artist Theresa Hak Kyung Cha appears in her essay "Communicating the Intermedia Archive" in Database | Narrative | Archive (2013), a Scalar-based anthology co-edited with Matt Soar. She brings to her participation on the Expo 67 Project team her focus on cultural memory and creative archiving, as well as her interests in experimental media arts. Visit her faculty profile page.
Janine Marchessault
Janine Marchessault is professor of cinema and media studies at York University, and a Trudeau Fellow. She is the director of the Visible City Project, which is examining urban art cultures in the twenty-first century city, and is also a co-founder of the Future Cinema Lab, which is exploring new stories for new screens. She is the author of McLuhan: Cosmic Media (Sage 2005) and co-editor of Fluid Screens, Expanded Cinema (2007), 3D Cinema and Beyond (2013 Intellect Press), and Cartographies of Place: Navigating the Urban (2014 McGill-Queen's University Press). She has curated several large-scale, site-specific public art projects, the most recent being Land|Slide Possible Futures (2013). Visit her faculty profile page.
David Clark
David Clark is a new Media Artist and Filmmaker based in Halifax. His net.art project, A is for Apple, played at Sundance, SIGGRAPH, FCMM, Transmediale in Berlin, and the Museum of Moving Images in New York and won Best in Show at the 2003 SXSW in Austin, Texas and First Prize at FILE2002 in Sao Paulo, Brazil. Recent projects include: 88 Constellations for Wittgenstein, that won the 2011 Nova Scotia Masterwork Award and was shortlisted for the 2011 Bournemouth University New Media Writing Prize. In 2012 he completed a commission at the Sir Sandford Fleming Park in Halifax called Meantime in Greenwich involving the installation of 24 augmented reality-enhanced sundials. David Clark teaches in the Media Arts at NSCAD University in Halifax.
Munro Ferguson
Born in New York City in 1960, Munro Ferguson took a very early interest in cartooning and film. In 1994, he joined the NFB English Program's Animation Studio, where he wrote, directed and animated How Dinosaurs Learned to Fly (1995). In 1997, he designed and animated the first IMAX 3D short, Paint Misbehavin'. Ferguson continued making stereoscopic films, creating Falling in Love Again, winner of the 2004 Genie Award for Best Animated Short, and June, an elegy for his close friend and mentor, artist Joyce June Wieland. June premiered at the Art Gallery of Ontario and was invited to numerous international festivals and exhibitions, including SIGGRAPH. He made the first stereoscopic signal film for the Festival Nouveau Cinema 2007 in Montreal. In 2008 he was Animation Director for Facing Champlain a NFB production for the 400th anniversary of Quebec City. Munro's most recent S3D film Minotaur, is an abstract expression of the mythic hero's journey towards death and back again, with original music by Kid Koala.
Jean Gagnon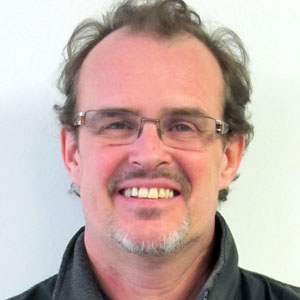 Jean Gagnon is Director of Preservation and Collections at the Cinémathèque Québecoise, Montreal. He was Executive Director of the Daniel Langlois Foundation for Art, Science, and Technology from 1999 to 2010, where he led the DOCAM Research Alliance on new media conservation. As Director of Collections, Mr. Gagnon's collaboration offers a unique partnership between a cultural institution, the Cinemathèque Québecoise, and university-based researchers on the restoration and preservation of cultural film heritage, more specifically, the film, Polar Life recently discovered in fall 2013 in the CQ's archival holdings.
Caroline Martel
Caroline Martel is a PhD candidate in Communications Studies (joint program UQAM-Université de Montréal-Concordia University, Montréal) and a documentary filmmaker involved in telling historical narratives that incorporate their research in experiential and experimental ways. She has a special interest in archives, invisible histories, and audio/visual technologies and heritage. She is currently involved in research/creation projects related to Expo67 with CINEMAexpo67 (Concordia University), the and the Centre d'histoire de Montréal. Holding a BA in Communications (1996) and an MA in Media Studies from Concordia University (2001), she remains dedicated to integrating theory and practice, and works under the supervision of Dr. Charles Acland on the junction between moving images and technologies histories.
Steven Palmer
Steven Palmer is Canada Research Chair in the History of International Health at the University of Windsor.  An expert on the early history of global health and the bacteriological research laboratory in the 19th-century Atlantic, he is currently completing a study on health and medicine at Expo 67, with a special emphasis on the Man and His Health pavilion and its Meditheatre.  Dr. Palmer is also completing a feature-length documentary film on Robert Cordier, the director of the Miracles of Modern Medicine "live documentary" that was shown and performed in the Meditheatre during Expo.
Elise Cotter
Elise Cotter is completing her MA in Media Studies at Concordia University. Her research focuses on the formulation and branding of "Canadian identity." She is also a Research Assistant for the Media History Research Centre and the Student Representative for Concordia's MILIEUX Institute. Before her masters, Elise worked at Historica Canada, the largest independent organization devoted to enhancing awareness of Canadian history and citizenship.
Danica Evering
Danica Evering is a metaphorist and imposter from Cobourg, Ontario. Through her art and research, she investigates ambivalent affects, social practice, sonic relationships, and publication as public space using feminist understandings and methodologies. Her thesis project thinks alongside power structures and feeling in socially engaged art through poetry. In addition to this writing, Danica is a part of the editorial team of Publication Studio Guelph, a sibling studio of an international publishing network that attends to the social lives of books, and a board member of Kazoo!, a new music and art festival and year-round music series.
Stephen Sherman
Stephen Sherman studies media at Concordia University. He is interested in the urban night, techno culture, modern ruins, and, more generally, discussing big ideas.
Seth Feldman
Seth Feldman, senior scholar in cinema and media studies, teaches at York University, Toronto. His numerous publications include some of the first collections of work on Canadian cinema, two books on the Soviet documentary filmmaker Dziga Vertov, and a monograph of the Canadian director Allan King. He is also the writer and presenter of twenty-six radio documentaries for the CBC program Ideas, including the four-hour "Evolution of Charles Darwin" (2009). Most recently, he has completed two documentary films, The Dachau Line (2011) and Mauthausen Twice (2012). A founder and president of the Film Studies Association of Canada, he has served as dean of fine arts at York University, chair of the Canadian Association of Fine Arts, and Robarts Chair in Canadian Studies. His current research focuses on the changing nature of documentary film, with particular reference to historical documentary and to the place of documentary in the Canadian experience. Feldman holds the honorific title of University Professor, one of twenty-five such positions at York University "awarded to a member of the faculty whom the University recognizes for his or scholarship, teaching and particularly participation in University life or contributions to the University as a community."
Caitlin Fisher
Caitlin Fisher is a Tier II Canada Research Chair in Digital Culture in the Faculty of Fine Arts at York University and an international award-winning digital storyteller. Her research investigates the future of narrative through explorations of interactive storytelling and interactive cinema in Augmented Reality environments. She directs the Augmented Reality Lab in the Faculty of Fine Arts at York, where she is working to construct and theorize spatial narrative environments.
Vanessa Meyer
Vanessa Meyer completed her BA in Concordia's Communications program and her MA in The New School's Media Studies department. Her interdisciplinary research is practice based, taking shape at the intersection of experimental film, documentary, autoethnography, feminist philosophy, and queer theory. She has worked in documentary production and television in Montreal and New York for the past ten years. Her short videos have screened at the Victoria Film festival and Montreal's Underground Film Festival.
Mary Elizabeth ("M.E.") Luka
Mary Elizabeth ("M.E.") Luka is a Banting Postdoctoral Fellow at York University, based at the Sensorium Centre for Digital Arts and Technology in the School of the Arts, Media, Performance and Design, and at the Schulich School of Business. Her research investigates how artistic, civic and business sectors are networked in the digital age, including a current comparison of sites of cultural collaboration in Canada, the US, the UK and Australia. Recent publications include work on crowdfunding, ​broadcast policy, and creative citizenship​ as well as ​interactive artist interviews​. Luka is an award-winning digital media and TV producer-director, and founding member of Narratives in Space + Time Society, a public art group working on projects involving mobile media and walking.​ For the Cinema Expo67 project, s​he edited a Korsakow database documentary, based on footage gathered from interviews with several of the Expo 67 filmmakers. ​moreartculturemediaplease.com​
Aimée Mitchell
Aimée Mitchell is a PhD candidate in the Joint Communication and Culture Program at York University. She acted as project coordinator and archival researcher for the Expo 67 Project. She is the current distribution manager and educational development and outreach coordinator at the Canadian Filmmakers Distribution Centre, Canada's foremost non-commercial distributor and resource for independently produced film. Her dissertation, "Canadian Amateur Film and the Politics of Canadian Media Archiving," examines the current political and cultural climate in Canadian archives through the framework of amateur Canadian cinema.
Tyler Morgenstern
Tyler Morgenstern is a PhD student in Film and Media Studies at the University of California, Santa Barbara. Broadly concerned with the visual and discursive organization of racial difference and Indigeneity in settler states, his research explores how specific media technologies and representational modalities – documentary, archival, and inscriptive media; digital and analog networks – assemble discrepant visions of place, scale, difference, and land. His current project explores the media ecologies of the contemporary Hawaiian sovereignty movement, thinking them in relation to a broader history of (mediated and mediatic) landings in and around the Hawaiian Islands. Tyler holds a BA in Communication from Simon Fraser University (Vancouver) and a MA in Media Studies from Concordia University (Montreal), where he was a fellow of both the Feminist Media Studio and the Media History Research Centre. Currently, he is a SSHRC Doctoral Fellow, as well as a fellow of the Graduate Center for Literary Research at UCSB.